A Room with a ZOO is located in the heart of the city of Antwerp, just a ten minute walk from the historic city centre. Its location next to Antwerp Central Station guarantees easy accessibility by public transport, with train, tram, and bus stops within walking distance. A good number of car parks are also available in the vicinity.
Because of its unique central location in Europe, Antwerp is the perfect meetcentive destination! After Brussels, Antwerp is Belgium's most important city for conferences and events.
By car
The smartest way to get to A Room with a ZOO is by train but the city is also easily reachable by car and coach because of its location on a crossroads of European motorways.
IMPORTANT: A Room with a ZOO is situated in a low emission zone (LEZ). Find out more about the low emission policy of the city of Antwerp.
A good number of car parks are available in the immediate vicinity of A Room with a ZOO. Electronic signposts announce the location of car parks and free spaces (purple zone).
Car parks with discount
In Parking Station ZOO, Parking Roosevelt and Parking Centraal, all within walking distance of A Room with a ZOO, our visitors get a special discount.
Parking Roosevelt
Reserve a parking space in Parking Roosevelt on the day of your choice. Use the promotion code zooantwerpen and you'll only need to pay 5 euros for a full day.
Parking Station ZOO
At Parking Station ZOO, visitors of a Room with a ZOO pay 6 euros until midnight. Don't forget to ask attendants from A Room with a ZOO to validate your parking ticket!
Parking Centraal
During the weekend you can park at Parking Centraal for only 5 euros per day. Reserve a parking space for the day of your visit (you don't need a promotional code). After parking, cross the station to enter A Room with a ZOO.
Other car parks in the area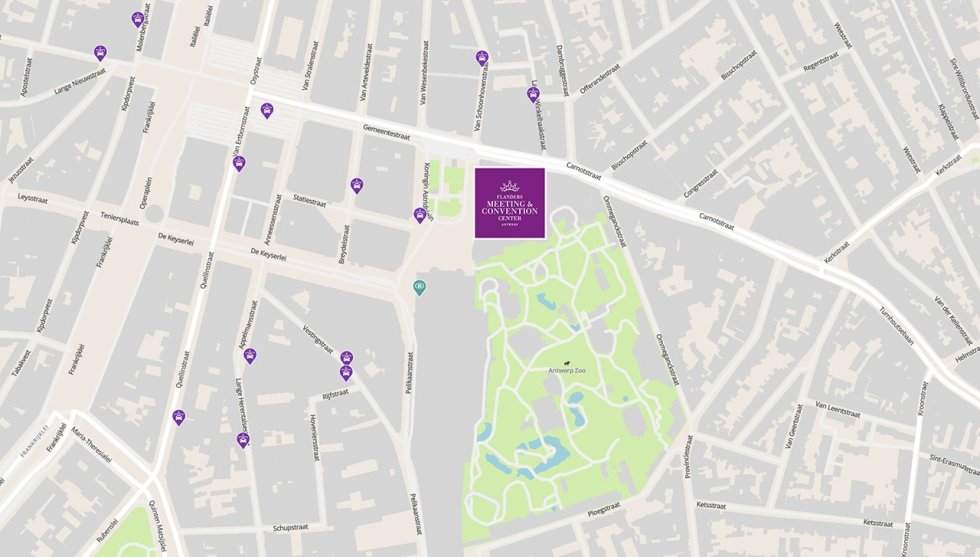 Park & Ride
If you'd rather not drive and park in the busy Antwerp city centre, you can always use the Park & Ride formula: park easily and for free outside the city and hop on the tram or bus to A Room with a ZOO.
By train
A Room with a ZOO is located next to the famous Antwerp Central Station. This station is considered to be one of the most beautiful stations worldwide with both national and international connections. Thanks to its central location in Europe, connection times to major cities are short and comfortable. Antwerp has high speed rail connections with Paris, Amsterdam, London and Cologne. The train journey to Brussels International Airport takes only 34 minutes. All information, timetables, and fares can be found on the NMBS website.
In 2014 the British-American magazine Mashable awarded Antwerpen-Centraal the first place for the most beautiful railway station in the world.
By air
Visitors flying to Brussels International Airport profit from a direct train connection to Antwerp Central Station. Brussels International Airport has about 75 airlines with over 200 destinations. There is also a smaller airport nearby; the Antwerp airport. This is located only fifteen minutes outside the city centre and offers direct flights to and from London
By tram or bus
Over twenty tram and bus routes stop within 250 metres from A Room with a ZOO.