The FMCCA consists of the Historic Wing, the new Carnot Wing and the new Elisabeth Hall. Each room in the Historic Wing has a different feel. The entire building has 25,000 metres of conference and meeting space that can be split up into to 30 rooms. It also provides a full-service kitchen for catering on an underground level.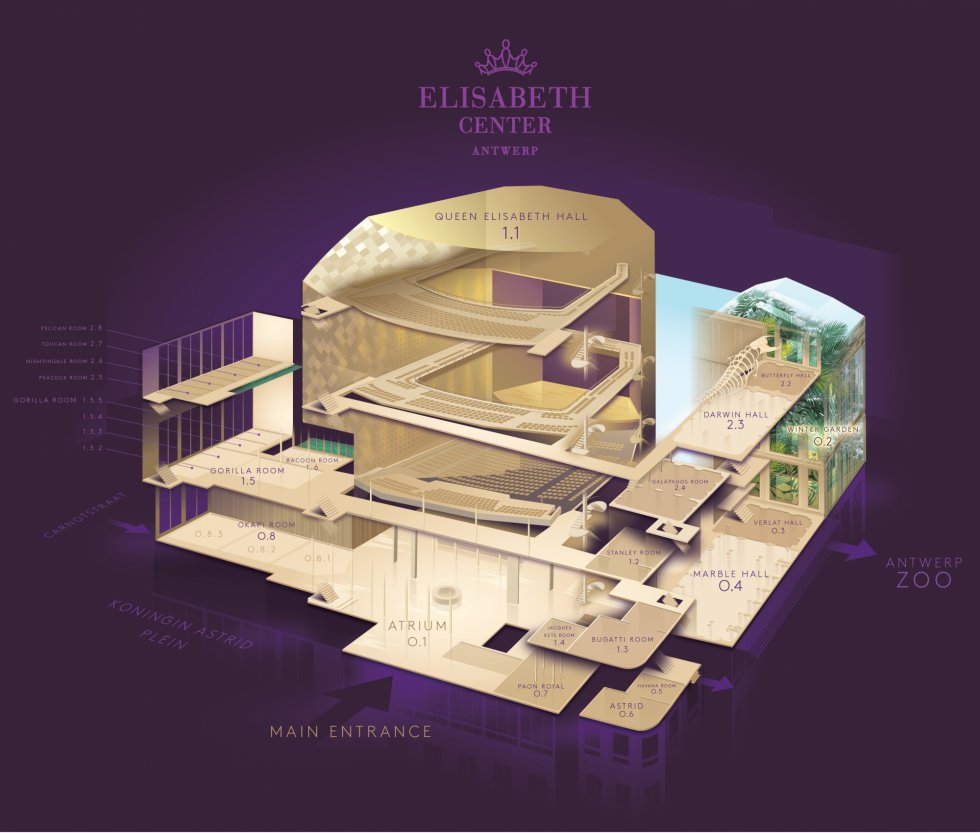 More detailed information on our rooms
Accessibility
A Room with a ZOO is wheelchair friendly. Every one of our rooms is accessible by elevator or ramp and wheelchair seating is available in our theatre hall.
Entrances
A Room with a ZOO, part of Elisabeth Center Antwerp as written on the venue itself, is conveniently located in the heart of Antwerp and is within easy reach by public transport.
Since the venue can be used for multiple events at the same time, there are three entrances to the venue to make sure that your clients or guests have their own entry for a personal welcome. The main entrance on the Queen Astrid Square (Koningin Astridplein 20-26) is located on your right when stepping outside the beautiful railway station.
There is a second entrance to the venue that is located inside the Antwerp ZOO. Using this entrance, you enter the venue via the impressive Marble Stairs, overlooking the flamingo's on your right. This entrance provides access to the Historical Wing of the venue.
We have a third entrance to the at the Carnot Wing (Carnotstraat). You reach this entrance by crossing the Queen Astrid Square and then turning to the right. The Carnot Wing, gives you an impression of the liveliness of the city.
Your event planner will let you know which entrance to communicate to your guests or clients.