Love green, think green, act green
Our commitment to the environment
Our love of nature is in our DNA. The vital importance of nature is increasingly evident, which is why we continue to boost our sustainable and ecological commitment. Although this is a visible commitment, it is more often one that goes on behind the scenes. We persistently try to increase our efforts, because there is always room for progress. For our efforts we received The Green Key.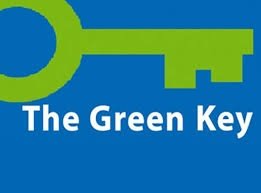 Some of our efforts:
For many years now we have been running projects in Brazil, Cameroon and the Democratic Republic of Congo, investigating the natural environment of endangered golden-headed tamarins, chimpanzees, gorillas and bonobos. We have set up breeding programmes for okapis and Congo peafowls, among others. And our project to protect and release the endangered cinereous vultures in Europe has drawn global attention. Closer to home, we are passionate about preserving De Zegge, a unique, jaw-dropping 111 ha nature reserve in Geel, Belgium.
Did you know that we even have a scientist specialising in well-being in our team? His aim is to make sure that the animals in our zoos are comfortable and happy.
Elisabeth Catering (KMDA) strives to limit food waste and has, therefore, signed the no food to waste charter. We are committed to reducing our food surplus by 30%.
Our chefs prepare festive buffets, extensive lunches and delicious snacks almost daily. All of the ingredients are produced locally where possible and often carry the bio or fair trade label.
We follow the advice of the Fish Guide, which grants a quality label to sustainably caught or farmed fish and seafood.
Obviously we do not serve foie gras, tuna or other endangered species in our parcs.
For its catering, the Elisabeth Center Antwerp uses many ingredients with the international Rainforest Alliance label awarded to sustainable agriculture, such as coffee, bananas and sugar.
We also serve an array of delicious vegetarian dishes in our restaurants and buffets. Consuming less meat and fish can significantly reduce our ecological footprint.
When ordering ingredients, our chefs carefully follow the recipes, allowing the suppliers to deliver the appropriate quantities of vegetables, meat, fish, etc. As a result, little food is wasted and all ingredients remain of optimal quality.
A Room with a ZOO strives for a minimal ecological footprint, maximum sustainability and low energy consumption, with an eye for modern technologies and facilities. For instance, the toilets are flushed using rainwater, the lighting in the conference halls only comes on when someone walks through and only the rooms that are currently in use are heated.
A Room with a ZOO is housed under a green roof. This well-insulated roof is covered with an evergreen planting of sedum and mosses. Because these plants retain heat and prevent reflection, they provide an extra layer of natural insulation. Moreover, the green roof collects water and slows down the rate at which excess rainwater is drained to the sewer system.
We encourage visitors and employees to opt for sustainable transport when coming to A Room with a ZOO. Almost 80% of employees come to work on foot, by bicycle or by public transport. More than 30% cover the entire distance between home and work by bike. Three sporty employees even cycle more than 25 km, one way!